Today we have a special treat for you Subaru fans. Justin DuPont, a previous mechanic for AJW and a part time technician for ISC Suspension-NA purchased a 2002 Subaru Impreza WRX about a year ago.
Justin purchased this vehicle with a blown 2.5L Hybrid motor. The deciding factor in the reason it blew originally was a bad tune. (Remember to contact a RELIABLE tuner who has some experience before you trust someone with your car folks). When the build began Justin didn't have the money to rebuild the 2.5L hybrid and instead when with a 30K miles EJ20 that he already owned. When Justin purchased the vehicle it had all sorts of bolt on goodies, many can be seen here.
The next thing Justin began working on was assembling the motor with the bolt on goodies that were on the blown hybrid.
Next up was a nice street tune by Jay Perry from Perry tuned. Justin also wrapped up the small build with some BBS VZ Wheels. Here was the mod list initially.
Power:
-30k Stock EJ20 Long Block
-IHI VF-22 Turbo
-DW 750cc Injectors
-Walboro 255LPH Fuel Pump
-Perrin Fuel Rails
-Perrin Turbo Inlet
-Perrin After-MAF
-K&N Drop In Filter
-STI Spec-C Long Runner
Intake Manifold (no tgvs)
-3mm Phenolic Intake Spacers
-Maddad UEL Header
-Maddad Cattless Up Pipe
-Stromung 3″ Divorced Short Down Pipe (custom cattless lower section)
-Stromung 3″ Catback
-Turbo-XS TMIC
-Forge BOV
-Hallman MBCS
-NGK 1 Step Colder Plugs
-Defi Control Unit
-Defi Link (oil pressure, water temp, EGT and MPH)
-Defi Boost Gauge
Suspension/Drivetrain:
-Tein Basic Coilovers
-Whiteline Front and Rear Swaybars
-Whiteline End Links
-SPT Front Strut Tower Brace
-Tein Rear Shock Tower Brace
-Group-N Front 4-Pot Brake Kit
-Group-N Rear 2-Pot Brake Kit
-DBA-5000 Slotted Rotors (F&R)
-Kartboy Short Shifter
-ACT HD Clutch
-ACT Street Light Flywheel
-Mishimoto Aluminum Radiator
-Samco Hoses
-STI V6 Type RA Gear Set (Rallispec Kit)
-BBS VZ Wheels (White)
-NEXEN 3000 225/45/17
Justin then decided to go with a set of ISC N1 coilovers purchased through us. He was excited to go low and get rid of the Tein Coilovers that he had.
Once the car was lower Justin decided he wanted to do something different with the front end. He felt that the 02 front end wasn't aggressive enough, and wanted to get rid of his broken bumper. What do you do then? You go with a Hawkeye conversion suggested by AJW's owner Andrew.
Justin got to work, and after a little bit of time the car was finished. Welding, re welding, and more welding. Here is a shot of the finished product next to Allen's 2011 WRX.
Fall was fast approaching by the time this was over and Justin decided that he would like to get new wheels. He went with a set of Varrstoen ES1 in 18X9.5 et 34. He wrapped them in a set of 225/45/18 Nitto 555Rs. He also decided to throw some ISC rear camber plates on his rear coilovers.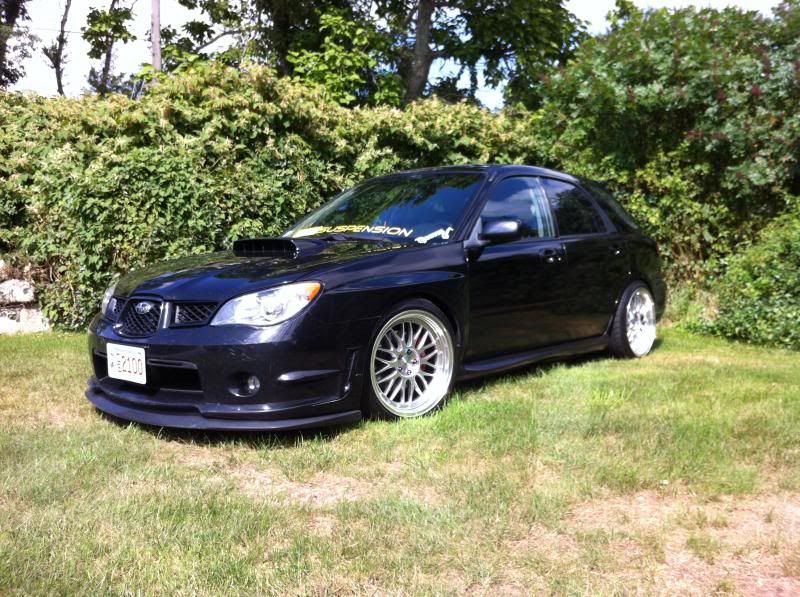 More on Justin's build next week! There is just to much to cover in one blog!
– Allen