The time is here! The time is now to see one of the craziest builds we have yet! This is Jay Perry's 2005 STihttps://ajwperformanceproductsblog.com in house Engine builder and Tuner of AJW Performance. Jay decided to pull all the stops with this one. Everything has been reworked from last seasons setuphttps://ajwperformanceproductsblog.com for referencehttps://ajwperformanceproductsblog.com Precision 6265https://ajwperformanceproductsblog.com Wiseco pistonshttps://ajwperformanceproductsblog.com stock heads/camshttps://ajwperformanceproductsblog.com stock ecu full weight driver running 504whp. <- Dont believe me?
504whp-http://www.youtube.com/watch?v=V9GO8IFeLe0
First 10 Second pass:
http://forums.nasioc.com/forums/showthread.php?t=2077692
At the end of last summerhttps://ajwperformanceproductsblog.com Jay had the car tuned at 535whp (will get the dyno printout). Out cruising one day it was time for a launchhttps://ajwperformanceproductsblog.com spinning tireshttps://ajwperformanceproductsblog.com he heard a big bang. Pull over and get the car towed home and find a forged rod right through the block! Oops. Time for a bullet proof build! We sat down and planned out parts and got them flowing.
This new setup should push Jay's beast to 6XX+ on our local mustang dyno. Howeverhttps://ajwperformanceproductsblog.com I wont talk about numbers until its broken in and fully tuned.
Motor:
Subaru OEM 2011 Block halves
ACL Race Main bearings
ACL Race Rod Bearings
Pauter Rods
Wiseco Pistons
ARP Case studs
ARP Head Studs
GSC Power Stage 3 cams
GSC Power Valve Springs and retainer kit
GSC Power Std size valves
OEM Oil Cooler
Killer B Baffle
Killer B Oil Pickup
Gates Timing kit with race belt
Torque Solutions Motor Mounts
Torque Solutions Pitch Stop Mount
OEM Gasket kit
Ported heads
Ported exhaust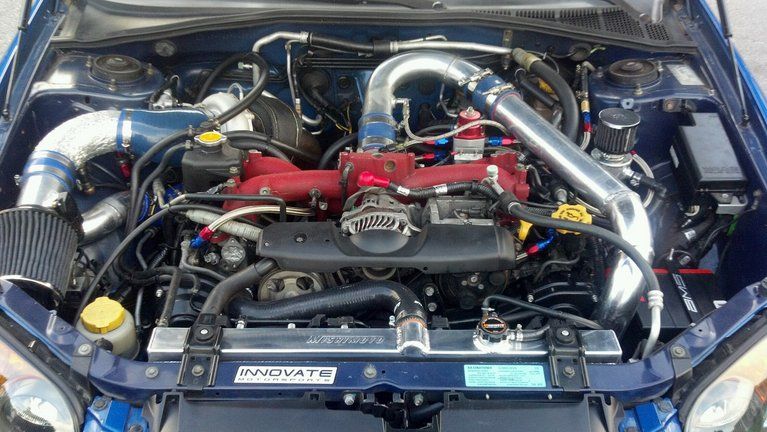 Fuel:
Injector Dynamics 2200cc Injectors
Walbro 400lph fuel pump
T1 Racing Fuel Rails
Aeromotive Fuel Pressure regulator
An fittings
Braided lines
Cooling:
Mishimoto Radiator
Mishimoto Radiator hoses
160 Thermostat
TurboXS FMIC
Cooling Mist Meth Kithttps://ajwperformanceproductsblog.com 250psi Pump- Custom Setup
Turbo:
Precision 6466 Ceramic Ball bearing turbo
KS Tech 83mm intake
Tial Q By Pass Valve
Hallman Pro RX Boost controller
OMNI 4bar Map Sensor
Exhaust:
SlowBoy Racing Rotated Downpipe
SlowBoy Racing External Wastegate uppipe
Tial 44mm External Wastegate
Tomei Expreme Ti Catback (11 lbs)
Perrin Header (wrapped)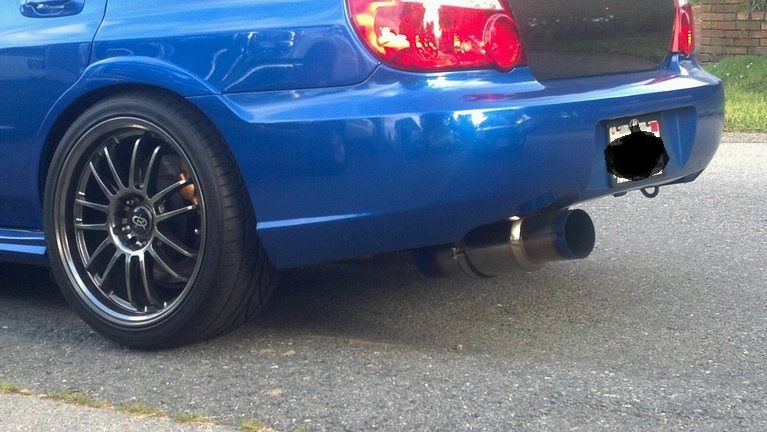 Drivetrain:
ACT Extreme Clutch Kit
ACT Streetlite FW
Torque Solutions Transmission mounts
6 Speed STi Transmission with 07 STi Gear stack (taller gears)
PST Carbon Fiber DriveShaft
Engine Management:
Current- Stock ECUhttps://ajwperformanceproductsblog.com Custom Jay Perry tune
Next step (already purchasehttps://ajwperformanceproductsblog.com harness made up) AEM EMS
Safety:
10 Point Chromeoly Roll Cage (60 lbs totalhttps://ajwperformanceproductsblog.com painted black)
GForce Harnesses
GForce Window Net
Weight Reduction:
Seibon Carbon Fiber trunk
Carbon Fiber Vortex Generator
Braile Battery
AMS Battery Relocator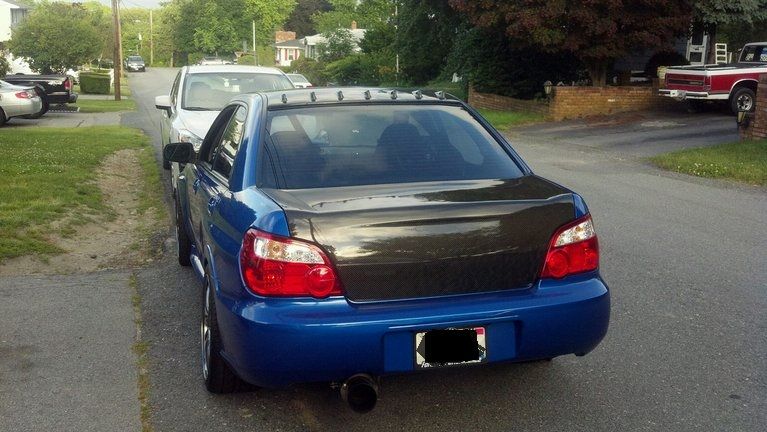 Wheels/Tires:
Street- Rota SVN 18×9.5
Hankook Ventus V12 245/40
Track- 05 STi BBS Wheels silver
Hoosier Drag Radials
Have any questions about the build let us know and well be happy to answer any questions. This car will be out at the drag strip this summer kicking ass and taking names. Be ready for it!